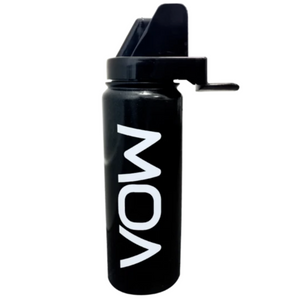 VOW Nutrition Hygiene 750ml Water Bottle
Regular Price
£5.99
Exclusive Price
£9.99
Why Choose VOW Nutrition Hygiene 750ml Water Bottle
The Vow Nutrition Hygiene Water Bottle is made in the UK and has been designed for sharing between teammates. This design minimises the possibility of cross-contamination and allows you to drink with a mouthguard in. Simply rest your chin on the hygiene bottle's chin rest, squeeze and liquid directed by the splash guards will gently flow into your mouth.

Made in the UK

750ml capacity
Cross-Contamination Free
Sleek and Stylish Design
Safe for Athletes
VOW Nutrition is committed to providing athletes of all levels with 100% clean and safe sports nutrition products that are free from banned substances.
See all VOW Nutrition Products

 

Click Here
We treat many Injuries / Conditions in Solihull, providing a structured tailor made Rehabilitation and Treatment plan within a professional clinical environment.
Injuries we treat include:
See our Services & Treatments - Click Here!
---
Share Treatment & Products
---
See further Treatments & Products