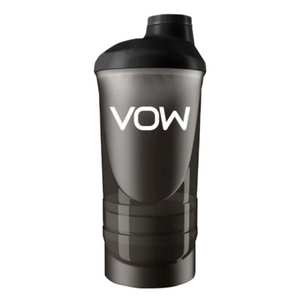 VOW Nutrition 3 x Compartment Shaker
Regular Price
£8.99
Exclusive Price
£12.99
Why Choose VOW Nutrition 3 x Compartment Shaker
VOW Nutrition 3 x Compartment Shaker has been designed to store nutritional supplements such as Powder and Capsules.

700ml capacity

150ml and 200ml storage compartments
Easy-twist lid and cap
Snap-on concave shaped strainer
High quality, non-toxic plastic
100% leak proof
Safe for Athletes
VOW Nutrition is committed to providing athletes of all levels with 100% clean and safe sports nutrition products that are free from banned substances. 
See all VOW Nutrition Products

 

Click Here
We treat many Injuries / Conditions in Solihull, providing a structured tailor made Rehabilitation and Treatment plan within a professional clinical environment.
Injuries we treat include:
See our Services & Treatments - Click Here!
---
Share Treatment & Products
---
See further Treatments & Products